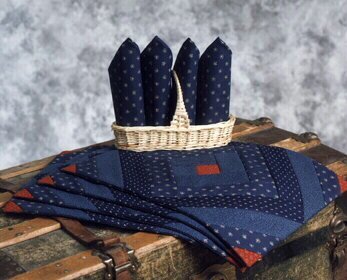 Add a touch of country color to your table with these charming place mats and napkins. Our homespun place mats measure 14" x 18", and napkins are 18" x 18". Place mats are priced at $4.95 each, and napkins are 4 for $9.95.
All of our place mats are done in log cabin design...the perfect accent for country decor...and are available in: (click on item to view image)






E-mail for shipping and handling
VISA/MC/CK/MO accepted / CO residents add 6 1/2% sales tax



In Stitches, P. O. Box 7012 Loveland, CO 80537
alohaskm@aol.com



Links
Planet Patchwork
Country Roots



Web Page Design and Graphics provided by A Touch of Country.